Irish Coast Guard search and rescue volunteers have several different formal and working uniforms.
Rank markings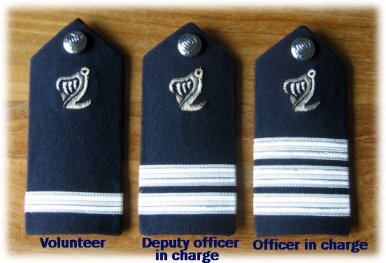 The volunteer rank markings include one stripe (for team members), two stripes (for Deputy Officer in Charge) and three stripes (for Officer in Charge).
The Coast Guard logo is a combination of a harp and anchor, inspired by the original Water Guard logo from the 19th century.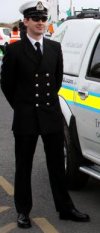 No. 1 dress uniform
This uniform is worn on all formal occasions such as parades, funerals, and receptions.
The uniform includes a peaked or tricorn hat bearing the Coast Guard logo of the harp and anchor. The black tunic also features the Coast Guard logo on the shoulder with rank insignia marked on the sleeves.
Operational dress
The operational kit is worn during all incidents and training exercises. It consists of a black polo shirt featuring the Coast Guard logo on the front and Irish tricolour on the left upper arm, grey combat trousers, black web belt and black boots.
Details of the operational PPE can be found on our Personal Equipment page.