This afternoon the Skerries Coast Guard team took part in the town's St Patrick's day parade. Hundreds of members of the public braved the cold and overcast weather to line the streets and show their support for the various groups, clubs, organisations etc that marched and danced their way along the parade route.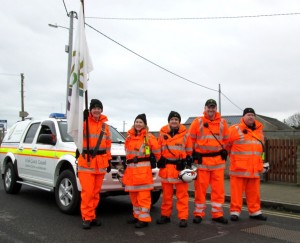 Unfortunately, the Coast Guard helicopter could not complete its annual flyover of the parade. The helicopter was tasked in the early afternoon to rescue two persons in difficulty at Greystones.
More photos of the parade are available in our online photo gallery.