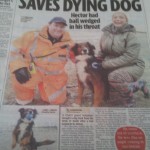 Today, several national newspapers ran the heartwarming story of Skerries Coast Guard's Gary Creighton rescuing local dog Hector. Hector a mixed border collie had choked on his tennis ball while out with his owner Colette on Rush South Beach. Fortunately Skerries Coast Guard Cardiac Responder Gary was nearby and used his medical training, plus a lot of quick thinking, and started CPR, saving poor Hector from the jaws of death.
The article featured in the Irish Independent, Irish Daily Mirror, Irish Daily Star and The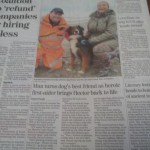 Sun. Several national radio shows also picked up on the happy ending, with Gary and Colette interviewed live on Hector's morning show on 2FM, John Murray's RTE Radio 1 show and also Spin 103.8fm.
Well done to Gary from all of the team at Skerries Coast Guard.