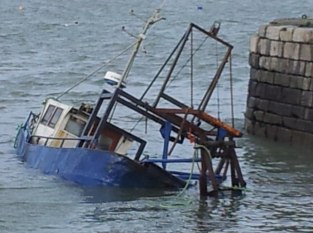 This morning, the Skerries Coast Guard team were tasked to investigate a report of a semi-submerged fishing vessel at Skerries harbour. Following the overnight NW gales and rough seas, the boat had become submerged under several metres of water.
The team checked the harbour area for any resulting pollution and thankfully none was found. The Dublin based Coast Guard helicopter made an aerial observation later that morning, again no pollution was reported.
Incident # 6 of 2013
Remember – if you spot someone in difficulty, even if you only think someone could be in diffuclty, dial 999 or 112 and ask for the Coast Guard.
Your call could save their life.