Skerries Coast Guard were tasked this morning to assist with efforts to refloat a live stranded Pilot whale at Gormanston Beach following a request from the Irish Whale and Dolphin Group. A large Pilot whale, approximately 25 ft in length, was stranded in shallow water on the beach.
Thanks to a combined and considerable "hands on" effort from members of Skerries Coast Guard, the Army (from Gormanston Camp), Irish Whale & Dolphin Group, Boyne Fishermen's Rescue, Skerries lifeboat and members of the public the whale was successfully refloated from the beach.
The Coast Guard's Rescue 116 helicopter was already airborne in the area and maintained observations on the whale's progress from a safe distance. Once refloated, the whale made good progress swimming out to sea.
RTE News reported on the whale rescue in their 6 o'clock news bulletin, featuring an interview with Skerries Coast Guard's Gary Creighton, who assisted with the rescue. A second, smaller whale was discovered later in the day, deceased on Mornington Beach. The news report is available to view on the RTE website.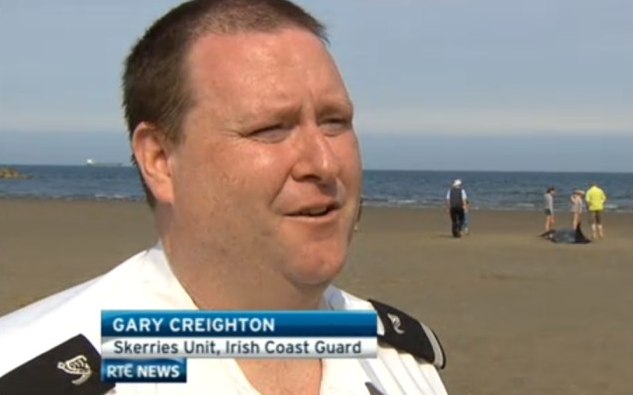 Incident # 10 of 2013
Skerries Coast Guard – a voluntary rescue unit of the Irish Coast Guard