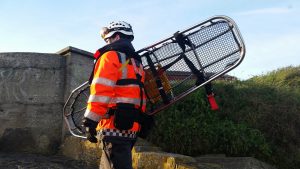 This morning the Skerries Coast Guard team conducted a casualty extraction training exercise at the North Beach, Rush. This scenario based exercise covered a number of casualty extraction drills, utilizing the challenging rocky terrain of the north beach & harbour breakwaters.
The exercise concluded with a
pyrotechnic drill, with several white parachute rocket flares deployed. These white rocket flares climb to over 1,000ft and are used for illumination and signalling purposes, particularly during night searches.
Skerries Coast Guard – a voluntary coastal search & rescue unit of the Irish Coast Guard.