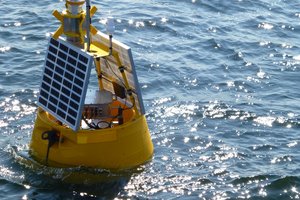 The Department of Transport, Tourism & Sport has been advised that Techworks Marine Ltd will deploy four moored Marine Data Buoys to gather scientific data on marine mammals. These buoys will be deployed in the Irish Sea at Loughshinny and Portmarnock between 9th and 16th February. One buoy will be deployed off the Loughshinny coast and will remain in place for up to six months.
Each data buoy is 1.2m wide, yellow in colour and has a navigation light as follows; yellow in colour, 5 flashes every 20 seconds. The light has a 5 Nautical Mile range. All vessels are requested to give the data buoys a wide berth.
These buoys are being deployed as part of the Greater Dublin Drainage project being conducted by Irish Water. Further details on this project are available from their website
The full text of the marine notice along with the exact locations of the buoys is available from the Department's website.
.