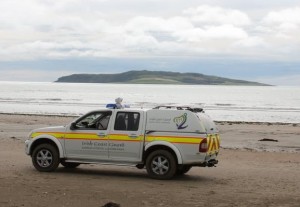 At 23:00 this evening, Skerries Coast Guard were tasked to investigate a report of unusual lights off the coast of Rush, 3 miles south of Skerries. A concerned member of the public had spotted unusual vessel lights in the vicinity of Lambay Island and had contacted the Coast Guard.
The Skerries Coast Guard team conducted a coastal search of the Rush area and nothing further was noted. Other vessels were operating in the area and none reported any difficulties.
Incident #1 of 2013
Remember – if you spot someone in difficulty on the coast, even if you only think that they may be in difficulty, dial 999 or 112 and ask for the Coast Guard. Your call could save their life.